Looking for Oman Tourist Visa? You are at the right place. Oman is one of the safest countries to live, work, or visit. If you are planning to visit Oman for tourism purposes you can get a visa using various methods.
Depending upon your nationality, you can apply using these channels. In this article, we have explained all the methods which you can use to apply for a visit visa.
Apply Tourist Visa of Oman Online
The best way to apply for the visa is by using the e-Service. E Visa allows travelers to apply, pay, and get the visa issued online hassle-free. This service may not be available for all the nationalities due to various security reasons, however, most the nationalities having the top-ranked passport can easily apply for the visa. Royal Oman Police website has all the details you can access the visa directly from eVisa Website here
The process of obtaining the visa is automated and simplified, and the processing is according to the laws and regulations of the Sultanate of Oman.
Click the below links for everything about e Visa Oman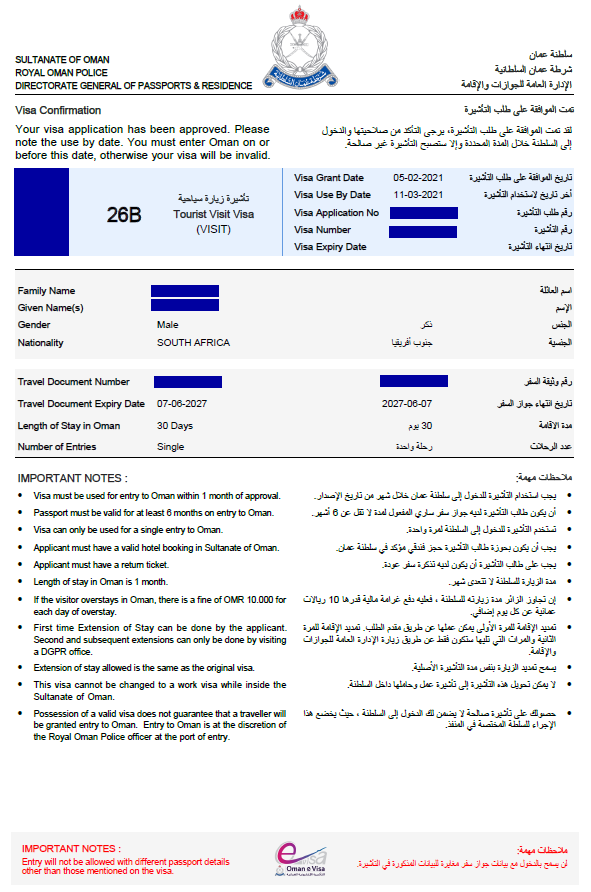 Oman Visa Eligibility to apply online
Depending upon nationality and various other factors you can check your eligibility for Oman Tourist Visa, ROP website has provided the specific visa wizard which you can run to check your eligibility. REcently Oman has revised the visa rules, which means that you no more need a sponsor to apply for your Visit Visa in most cases.
How to apply online for your visa
Applying Tourist visa for Oman online is only 5 step process.
Keep your passport copy in digital format ready on your computer.
Fill out the application form online on the above-mentioned link
Attach Required documents
Make Payment (Using Credit Card or Debit Card)
VIsa Issued – Save Visa (PDF) or Print
Visa approval might take some time, however, you will receive an e-mail notification of your Oman Tourist Visa on approval
Do I need to get a printed Visa?
It is a good idea to print the Oman Tourist Visa, as you might need to show it in your home country and you will definitely need it at Oman Airport or other Borders in Oman. This will help you to get your processing done quickly at Oman Airport.
Get Tourist Visa through Travel Agent
There are various travel agents in your country who can help you to get the Tourist Visa for Oman easily, many tour operators in your home country can apply for Visa on your behalf. This is an ordinary method that was most popular. But in most cases, it takes time as Travel Agents might go through the manual process of obtaining your visa. However, most tour operators will apply for visas online.
Tourist Visa Oman by Local Sponsor
One of the options to obtain a tourist visa is through a company or organization in Oman. Various companies in Oman are allowed to get Tourist visas for their business partners, clients, or for any other reason. If you know someone who owns a company he can get you the Visa through the company. This is called a sponsor tourist visa. Where PRO of the company will either apply for the Visa from the self-service portal of companies or they will physically visit the ROP Visa Section to apply for the Visa. This usually takes 3 to 4 working days.
Sometimes it might take a long time to get a visa.
Family Tourism Visa
If you are already living and working in Oman, you can apply for Tourist Visa for your immediate family through your sponsor (Employer). The tourist visa can be obtained for your Immediate Family members (Parents, Siblings, Spouses, children, and In-laws). The Tourist visa for the family will allow them to stay in the country for a period of 3 months.
Tourist Visa for US Citizens
If you are a citizen of the USA (United State of America) you are eligible for a multi-entry Oman Tourist Visa.
You can either apply for a one-year multi-entry tourist visa. Which will allow you to stay in Oman for 30 days. However, you can also get 2 years multi-entry visa for tourism or business which will allow you to stay for a period of 3 months.
I own a property in Oman. Do I need Visa?
If you are a non-Omani who has bought a freehold property in Oman, you can obtain a visa for yourself and your immediate family till you own that property.
If you are a non-Omani owner of property in Oman above 22 years of age. And you have been living in Oman for at least two years, and if you are using the apartment personally then you can get the visa with your first-degree family (i.e. parents, siblings, and children of the buyer) for at least 4 years. However, if you sell this property then you can be eligible to have 2 years visa.
If you are not living in your house or if you have rented it you can still get the visa for 6 months or 1-year multiple entries and for each entry a maximum stay of 3 months.
Oman Tourist Visa Requirements
In order to get Oman Tourist Visa, you must have a valid passport with a validity of at least 6 months. Your photo with blue or white background. A credit or debit card to apply online.
Oman Tourist Visa for Indians
Indians with valid residence permits or visas from Australia, Canada, Japan, the UK, the USA, or a Schengen country can apply for an Oman tourist visa online.
Oman Tourist Visa Price
The Standard Visa price for a Tourists Visa is OMR: 20.000 which is equivalent to US $ 50
However, Oman visit visa 3 months Price is OMR: 50.000 or Equivalent to US $ 125.00
More Information
If you want to know more about Oman Visas or Oman tourist visa news Click the Below links